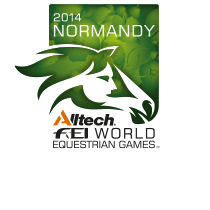 The South African Equestrian Federation (SAEF) is pleased to announce that tickets for the Alltech FEI World Equestrian Games 2014 in Normandy are now available via the SAEF.
Tickets will be on sale from 24 July 2013 – 16 August 2013.
There may be a second ticket offer after 16 August, but this is not confirmed.
TICKET OUTLINE / INFORMATION
The WEG Organising Committee have packaged the tickets as follows:

Sport Passes – these are generally per day, per discipline, e.g. Sport Pass 1 is for Monday 25 August, Dressage morning session and Dressage afternoon session.
Sensation Passes – these are generally per day, but include 2 different disciplines, e.g. Sensation Pass 2 is for Friday 29th August, and allows entry to watch Para Dressage in the morning, and Dressage in the afternoon.
Discipline Specific Passes – allow entry to watch all classes of the specific discipline: e.g. Jumping Pass allows entry to watch all the Jumping classes.
Sensation Pass 1 – allows entry to the Opening Ceremony.
Closing Ceremony: There is no specific ticket available for the Closing Ceremony. However, if you purchase a Jumping Pass, then the Closing Ceremony is included.

HOW TO ORDER
1) Fill in the Order Form, indicating the number of tickets required for each block.
2) Please note that all ticket prices are subject to currency fluctuations
3) Make payment into the following account:
a) South African Equestrian Federation
b) Bank: Nedbank
c) Branch Code: 146905
d) Account Number: 105 371 96 98
4) E-mail your Order Form + Proof of Payment to: wegtickets@mweb.co.za
5) Or fax your Order Form + Proof of Payment to: 086 670 0088
Please note that the deadline for ordering tickets is 16 August 2013.

IMPORTANT INFORMATION
Proof of Payment must accompany your order.
Please use your SURNAME as a banking reference on your Proof of Payment.
No tickets will be ordered or purchased without Proof of Payment.
Once your Order Form plus your Proof of Payment has been received, SAEF will place the order for your tickets, and will send you an invoice.
Tickets will be delivered to the Federation from May 2014. The Federation will advise on their website of the delivery.
The SAEF is not responsible for organising flights or accommodation.

WHO TO CONTACT
If you have any queries, please e-mail wegtickets@mweb.co.za

DOWNLOADS

SAEF Ticket Advisory
SAEF Ticket Order Form
Alltech FEI World Equestrian Games™ 2014 in Normandy